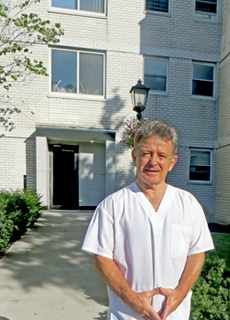 Teodor has received invaluable education and training from private and public institutions around the world.
Continuing education with AMTA - NY Chapter | 1991 - present
• Yearly completion of various courses
The Upledger Institute Inc | 2004 & 2006
• Received Certificate
• Craniosacral Therapy, Level I & II
Muscular Therapy Institute | New York NY 2005
• Studied with Dr. Ben Benjamin, disciple of Dr. James Cyriax, the pioneer of Transverse Friction Therapy.
Core Institute | 1998-1999
• Started Connective Tissue and Myofascial Therapy
• Body reading analysis and integrative excersise
Massage Therapist | 1996-1998
• With Plaza Health Group, worked with Dr. Stanley Son, chiropractor, and his affiliagted medical group, by professional medical massage therapy.
Dr. Robert Lerner | New York, NY 1998-1999
• Actively participated in lymph drainage therapy
• Additional duties included massage and bandaging
International Alliance of Healthcare Educators | Hartford, CT 1996-1997
• Lymph Drainage Therapy (LDT) certified
• Studied with Dr. Bruno Chikly, MD | the developer of LDT
Guang An Men Hospital, China Academy of Traditional Medicine | Beijing, China 1994
• Certified in Tuina Therapy & Principles of Chinese Medicine
NY Gaelic Athletic Association (Hurling & Football) | 1991-2010
• Served as massage therapist for sport injury and healing
The New Center for Holistic Health Education & Research | New York, NY 1991
• New York State Certified in Massage Therapy
• Studied Tai Chi Kung, the physical framework of Taoism, which promotes physical, emotional and intellectual well-being.
Manhattan College Head Wrestling Coach | 1986-1987
• Second place in Empire State Tournament
Physical Therapy Aide | 1984-1997
• Worked for registered physical therapies in Riverdale.
• Specialized in sports/orthopedic therapy modes, including massage; body manipulation; cybex/nautilius exercise therapy.
Studied at High Performance & Olympic Preparation Department | 1977
• Certified Wrestling Coach
• One of the best schools of Physical Education in Europe.
National Institute For Physical Education & Sports | Bucharest, Romania 1975
• Extensive study and training